Neuroscience Art
Julia Buntaine is a neuroscience-based visual artist, interested in what has proven to be the most complex puzzle, the epitome of emergence, the brain. The instantiation of form and function united, from the molecular to the level of Neuroscience as a discipline, her work seeks to address the beliefs, theories and findings of the biological phenomenon of consciousness. Beginning with biological form or data, her work departs into the world of aesthetics as she manipulates the idea through the use of scale, metaphor, material and form. Unlike articles and raw data, scientific ideas in the form of art inherently demand subjective judgment and interpretation, and her goal as a science-based artist is to provide the viewer an alternative way to understand the wonders of biology we have discovered in ourselves.
She is also Director of the SciArt Center of New York (www.sciartcenter.org) and Editor-in-Chief of SciArt Magazine (www.sciartmagazine.com) and Innovator-in-Residence at Rutgers University.
The pieces above are part of the "Wave(s)" series (in progress), which explore the natural aesthetic and morphological potentials of the five brain wave shapes.
…………….
EEG, or electroencephlagram, is a device populated with electrodes used to measure brain waves from the scalp. Without its functionality, the EEG headset takes on a shape and life of its own.
……………
January in the Frontal Lobe. 2016. GIF animation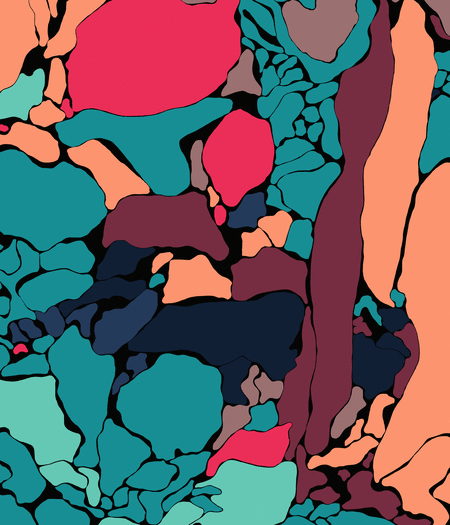 This animation illustrates how the brain changes from day to day over the course of 31 days, initially based on cerebral cortex data from MIT, shaped by what we know about learning and memory processes.
……………
Windows into the Mind. 2016.
Brain slides from a rhesus macaque monkey, red lights from 6pm-6am. One year installation at Lafayette College's Garde House.
……………
The Unexpected Visitor by Ilya Repin
Are the eye-tracking movements of looking at an artwork artful in themselves? Is there beauty in the looking pattern of a beautiful picture, is an inherent aesthetic blueprint revealed?
……………
Thoughts 23
…………..
BioBase Neuron
……………
Lafayette College – Frankenstein 2029
……………
Molloy College
……………
World Science Festival
………………..
Get the Full Experience
Read the rest of this article, and view all articles in full from just £10 for 3 months.
Subscribe Today